Jennifer Fry D.V.M. - Owner and Veterinarian. Dr. Fry is a Wichita native who grew up spending summers on her grandparents' farm. She earned her Bachelor of Science in Animal Sciences and her Doctoral degree in Veterinary Medicine and Surgery from Kansas State University in 1989. She has been practicing in the Wichita area for over 30 years.
Memberships past and present:
American Veterinary Medical Association (30 years)
American Association of Feline Practitioners (over 20 years)
Veterinary Emergency and Critical Care Society (10 plus years)
Her areas of interest include both canine and feline internal medicine, dentistry, soft tissue surgery, ACL repairs, rigid endoscopy, ultrasound and general wellness care for dogs and cats of all breeds and sizes.
ailey.
---
We have assembled the finest team of: Registered Technicians, Vet Assistants , and Kennel Staff. They provide compassionate and quality medicine for the animals under our care.
---
Peyton - Hospitality and "scape-cat." Peyton is often up front to greet pets and their owners as they arrive. He is also blamed for most things which are broken, but with good reason! He has been with us since the opening of the clinic and is now close to 13 years old.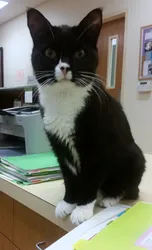 ---
Shitake - Hospitality. Shitake is still searching for her special role here at the Animal Hospital. Until then she roams from the reception area to the back, looking for someone who will give her a little lovin' and/or a cat treat.